Funeral flowers: Etiquette, Customs and Traditions
14Aug 2020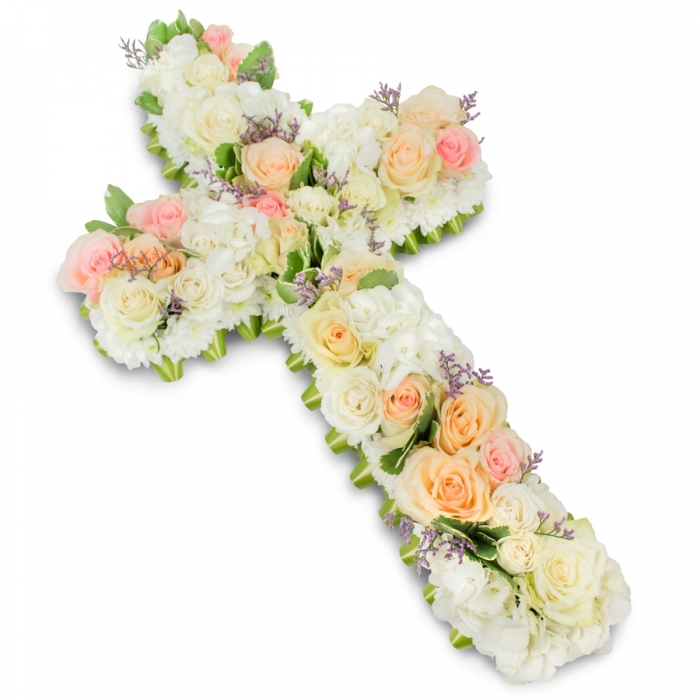 Funeral flowers are probably one of the biggest and well-known traditions in the UK. Very few funerals would happen without any flowers being present. But what's also known is that there are certain rules and etiquette when it comes to choosing and sending flowers for funerals, and it's essential to get these right in order to avoid any offence.

This is a difficult time for families and loved ones of the deceased and whether you are a close relative or just a casual acquaintance, the right funeral flowers make all the difference. But what are these traditions and etiquettes that you need to be aware of and how important are they? After all some customs have declined in recent times, so doing something that would have been severely frowned upon a hundred years ago may well be perfectly acceptable today. In this blog we talk about some of the things to be aware of when you are having funeral flowers delivered.
Etiquette Tip 1: Don't Buy Garage Flowers
You don't have to spend a fortune on funeral tributes in order to make an impact and show your respect, but one thing you should never ever do, is buy your bouquet from a garage, supermarket or similar. It is an unspoken rule that funeral posies or tributes should be purchased from a real florist.

These flowers are meant to be a mark of respect for the deceased, and popping in to a garage to pick up a bouquet on your way, doesn't show much respect or thought. So if you are given the choice between garage flowers or no flowers, arguably it's better to go with no flowers.

Obviously the ideal is to buy some in advance from a specialist funeral flower shop, but a well-chosen bouquet from a qualified florist will do just as well. The key is to make sure you are buying your flowers from someone who really knows their stuff and can advise you on the right tribute for your loved one.
Etiquette Tip 2: Never Buy Artificial Flowers
The only thing worse than buying flowers from a garage or supermarket for a funeral, is buying artificial flowers instead. The purpose of flowers at a funeral is supposed to show your love for the deceased, but also to highlight that everything in this world has a beginning and an end. Buying fake flowers doesn't quite say the same thing, besides they are terrible for the environment (and normally look super tacky). So do not be tempted to go for artificial because you want them to last longer, choose a good quality bouquet from a trained florist instead and they will last plenty.
Traditional Flower Choices
Lilies have long been the traditional funeral flower of choice. White lilies are usually chosen, as they are thought to represent innocence and purity of the soul. If you are unsure of what flowers to choose, lilies are almost always a guaranteed hit, you really can't go wrong.

Another traditional choice is a carnation bouquet. Depending on the colour, carnations have different meanings, for example, white stands for innocence, just as with the lilies, pink represents remembrance, and red is a symbol of admiration. Choose the colour you want to represent your feelings, or create a bouquet of several colours if you feel they all represent what you want to say.

In terms of flower designs, the most common is the funeral wreath, nearly everyone will have at least one wreath at their funeral. Other traditional examples include funeral baskets, and floral tributes, although these can vary quite a lot in their actual design.
Flower Choices Today
Although many people do choose a traditional bloom such as lily or carnation, today there is a definite move away from the traditional, with many people instead choosing flowers that represent the person who has died. This varies from including their favourite flower in the bouquets, to choosing flowers of the same name, or that symbolise their character.

The approach is becoming more and more common, especially as church burials and religious services are less commonplace now.

So if there is a flower that you feel really showcases the person you are paying tribute to, then there is nothing stopping you from choosing it as the focus of your floral display.
Customary Floral Displays
Customarily there are several floral tributes that will be present at a funeral. Quite often a funeral tribute from family members will include a display that denotes the relationship between the deceased and their loved one.

For example, Mum, Dad, Son, Daughter, Grandmother, or Granddad are all common. Where these are chosen, they are almost always displayed in the hearse that transports the coffin to the burial site. This is a custom that is still going strong and is likely to continue for a long time to come. It is a custom that is common in both religious and secular burials, so is seen in a variety of situations.
As mentioned above, another common custom is the inclusion of a wreath at the funeral. These can be circular, as in the traditional design, or some are now shaped like teardrops, also known as funeral sprays. They typically are made up of a mix of plants as well as a focal flower as the centrepiece.

In many cases they will contain traditional funeral flowers such as chrysanthemums, carnations or lilies, but as with general sympathy flowers, more and more people are choosing to customise their displays to make them more personal. So it is not uncommon to see very bright displays, and unusual, exotic flowers included today.
The Inclusion of Funeral Flowers
Although almost all funerals will have flowers of some kind included, it must be noted that the inclusion of flowers is becoming a less frequent occurrence. More and more families are opting to ask mourners to donate money to charity instead of sending flowers. A new etiquette point is therefore to always ask the deceased's family whether they would like flowers or not. This is not to say that you can never send flowers if the family have asked you not to, you may like to do both, however it is polite to speak to the family in advance and make sure any floral displays will not cause offence. As mentioned at the beginning of this article, a period of mourning is extremely stressful, and it's always wise to do what you can to provide a grieving family with support and consideration, even if what they ask doesn't necessarily make sense to you at the time.

This is the ultimate point of etiquette and custom: your intention should always be to display your sympathy for the family, and show your respect and admiration for your loved one. Flowers are a beautiful and fitting way to do this, but remember, they aren't the only way.