The Meaning behind Traditional Funeral Flowers
14Apr 2020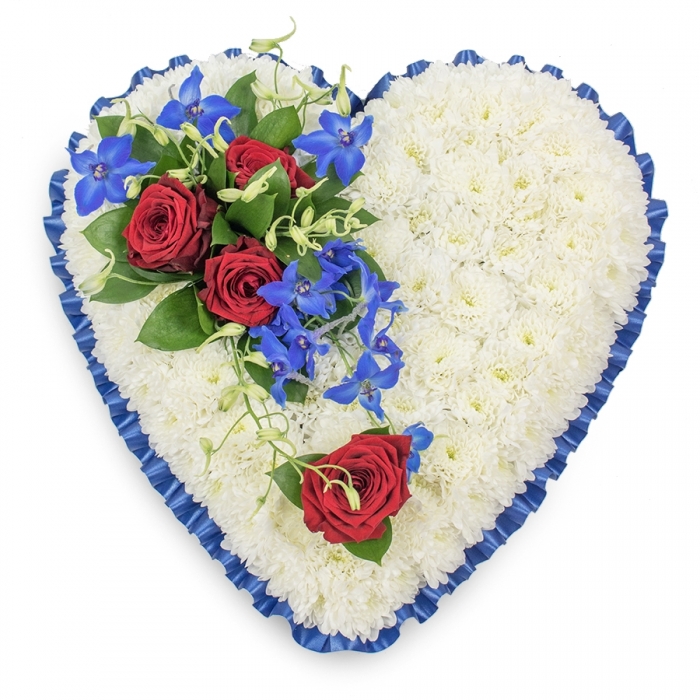 When you think of sympathy flowers, you probably imagine a pristine white lily, and it's no wonder. Lilies have been one of the most common traditional funeral flowers in the UK for many years, but have you ever wondered why, and what the meaning is behind them. And what about other funeral tributes you commonly see? Well, wonder no more, because in this blog we explore the symbolism behind some of the most common funeral sprays you'll find, helping you to decide on the right flowers for your loved one.
Lilies
The primary meaning of lilies is innocence. They are supposed to symbolise the restoration of innocence to the soul of the departed, hence why they are such a common choice for flowers for funerals. The white lily specifically is representative of majesty and purity, however, stargazer lilies are more commonly associated with sympathy and affection for the deceased.
Carnations
Along with lilies, carnations are one of the most popular choices for funeral displays, though are a more colourful flower to include. Each colour has a different meaning, so you can express many different emotions through a simple bouquet of carnations. Red, for example, represents admiration, pink is for remembrance and white denotes pure love and innocence, similar to the lily. So it is a good idea to include carnations when you send funeral flowers.

Gladioli
More common in funeral sprays than anything else due to their length, gladioli are known to
represent the strength of character, integrity, sincerity and loyalty. They are therefore commonly chosen as arrangements for people who embodied these characteristics in life. Their bright and wide range of colours make them perfect for floral displays where brightness and vibrancy are desired, over the traditional white. Colours include pink, salmon, red, purple, yellow, orange and green, so a truly glorious display can be created with just this flower.
Chrysanthemums
It is common across parts of Europe for chrysanthemums to be a symbol of death, and as a result in certain parts of the world, for example, Poland, Italy, France and Spain, they are used exclusively for funeral displays. In the UK however they are also a popular garden flower, so are a common sight. White chrysanthemums are believed to be a symbol of grief and sadness, especially in parts of Asia including China and Japan, although in the USA they are a sign of positivity, truth, and loyalty.
Roses
Not everyone views roses as a traditional funeral flower, seeing as they are more commonly associated with romance, however, they are such a popular and well-known flower that they are often included in funeral tributes. And thanks to the wide variety of colours of roses available, there are many different messages that can be conveyed by this simple flower. White, for example, is a symbol of humility, youthfulness, and innocence. Red roses are a symbol of love, respect, courage, and passion. A dark crimson rose is said to stand for sorrow and grief, and are therefore a common choice for funeral wreaths. Pink roses are symbolic of love, appreciation, gentleness, and grace. Yellow shows a strong tie between a loved one and the deceased. And the inclusion of a single rose in a bouquet denotes undying love and devotion.
Orchid
Due to their exotic nature and not being very common as a plant in the household, there is something very special about the inclusion of an orchid plant in a funeral spray. The main meaning of orchids is 'I love you' which also makes it the ideal tribute for when a loved one passes away. Colour is an important part of orchids, with pink and white showing sympathy and condolence. There are certain types of orchid that are particularly appropriate for sympathy flowers; your local funeral flower shop will be able to advise on the most fitting option.
Hydrangea
The simple hydrangea, another common garden plant in the UK, is viewed by many florists as a suitable sympathy gift for loved ones of someone who has passed away. Due to its versatility, it can be taken indoors and placed in the home as a sign of sympathy and comfort. Or it can also be planted outdoors and grown into a larger plant. This is often seen as a thoughtful gift as it allows loved ones to enjoy a longer-term symbol of your condolence and affection, and may serve as a reminder of the deceased in the future. Traditionally it is viewed as a gift that symbolises thanks for understanding and shows genuine sincerity and affection.
Daffodils
Daffodils, alongside their springtime fellow, the tulip, are considered to be symbols of rebirth and new starts. Their bright colours and cheery association is thought to be a signal of hope for those who are grieving after a loss. Tulips are said to represent grace and elegance, though again different colours have different meanings. For example, white tulips show forgiveness, yellow tulips are a signal for cheerfulness, purple tulips are about loyalty and red tulips, as expected, represent love. Again, they make an ideal bouquet for when you want to say several things with a single flower type.